Kelly Monroe Kullberg with Dr. Poh Lian Lim, on Disease, Suffering & Hope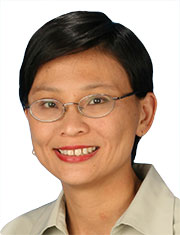 Trained at Harvard, Columbia and Tulane as an infectious disease and public health physician, Dr. Poh Lian Lim Yap, MD, MPH, worked the front-lines during the 2003 SARS outbreak in Singapore, and now the COVID-19 virus pandemic. Dr Lim has been active in outbreak work in Singapore and also with WHO.  She is a wife and mother of 4 children, a cancer survivor, and a serious reader of C.S. Lewis and J.R.R. Tolkien. Dr. Lim also wrote a chapter, reflecting on sexuality, for the book, Finding God at Harvard: Spiritual Journeys of Christian Thinkers.
Poh Lian and her husband Vong touched the hearts of many Asians during the process of adopting a very special boy who never gave up hope that he would be loved by a family. Now, Keyuan has loving parents and siblings! This powerful, beautiful story of hope can be seen in the news series, Bringing Keyuan Home, part 1 and part 2.
When not serving patients and working with fellow public health experts, or raising children, and hosting friends from various nations, Dr. Lim continues to encourage students and the Harvard Christian Alumni Society.
In her earlier years, Dr. Lim helped Kelly Monroe Kullberg and friends create the Veritas Forum and The Boston Globe best-selling book Finding God at Harvard: Spiritual Journeys of Thinking Christians. Both Veritas Forum and the book raise and explore the hardest questions of the world in relation to truth (Veritas) in the person of Jesus Christ and a biblical worldview. Kelly Monroe Kullberg founded the Veritas Forum and helped to develop Veritas in many universities around the world. The Kullberg family is enjoying a new project, exploring spiritual journeys (testimonies) of old and new friends as they travel. Finding God In (. com) — "Short videos. Changed lives."